This is the D-3 Digivice from season 2.US D-3 Features

1. There are five colors (red, blue, yellow, green, black) of the D3 device.
2. You can select in the beginning any of the Dig-destined D-3 starters Digimon besides Wormmon.
3. You can digivolve in battle either be Naturally (which needs to be obtained after beating a boss) or use the Digi-egg to digivolve (each digimon comes with one but you can find others and digimon can only use certain digi-eggs).
4. Battle require shakes like the Digivices but only to get you DP.


The original Digivice: If you are looking for a toy that might be fun STOP! There are 8 Digimon to chose from (all of them are from the TV show). You pick one and then your off. You can walk or shake to make your Digimon walk places (about 600 until something happens). You have a distance to go and its not going to get you there on its own. But on the way you fight evil Digimon. If you think you have to digivolve to pound the evil Digimon into the ground then you have to shake it. To digivolve you have to have enough digi power, and you have to shake but not any ordinary way each digimon has a certain way. After you win you can keep going but if you lose you have to make sure your digimon gets medical attention if needed. If you don't heal him and he needs to be healed, your digimon won't move. After a long time of doing this you'll come to the boss you will have to digivolve to level 3, from there it should be a sinch. Then again you'll have to go through this again but it will be a longer distance, and the digimon will be harder to kill. Also just in case you had 2 or 3 or however many favorites you will pick up digimon on the way. Another thing is that Agumon and Gabumon DO NOT warp digi volve which is a downer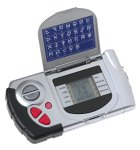 This is the D-Terminal:The D-Terminal allows Digimon fans to connect with friends, play games, or engage in battle. Attach the D-Terminal to a friend's Digivice or D-3 and go into battle between the digital monsters. Want to know the names, stats, fighting techniques, physical characteristics, and more on over 350 Digimon? The D-Terminal can tell you! Two single-player games and a function that translates English words into Digi-words are also available on the device.



You don't have to be a serious fan of Digimon, a popular animated television show and video game, to appreciate this colorful, five-piece figure set. Made of durable plastic and standing between 1.5 and 2 inches tall, each figure features authentic details and colors from the action-packed children's series. When they are not engaged in imaginative play with other Digimon figures (sold separately), these sturdy replicas look great mounted on a table or bookshelf in the playroom, or you can fit a group of them easily into a backpack or pocketbook for Digifun on the go. This collectible set includes Vademon, Tyrannomon, Skullgreymon, Zudomon, and Metalseadramon(and maaaany others) figures. Includes an illustrated, two-sided Digimon poster