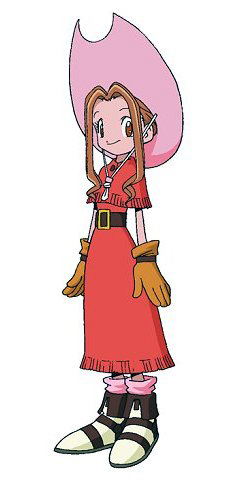 Name: Mimi Takichawa
Nickname: Mimi
Age: 10
School: Odaiba Elementary
Grade: 4
Home: Tokyo, Japan
Digimon: Tanemon/Palmon/Togemon/Lillymon
Voice Actor: Philece Sample
Crest: Sincerity.

Mimi is the spoiled one of the digidestined. Her favorite color is pink. She is constantly complaining about how hot and tired she is. Her favorite place to go is the mall. But once the kids got to know Mimi, they saw that she wasn't all spoiled. She was really a nice person to talk to. Her crest of sincerity fits her well because she really cares about the other kids in the group.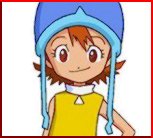 Full Name: Sora Takenouchi
Nickname: Sora
Age: 11
School: Odaiba Elementary
Grade: 5
Home: Tokyo, Japan
Digimon: Yokomon/Biyomon/Birdramon/Garudamon
Voice Actor: Colleen O' Shaughessy
Crest: Sora



Sora looks like one of those tomboy girl but in reality she is sweat loving person. She takes care of all of the others. She thought her crest of Love didn't symbolize her because she thought she didn't know any love cuz her mom didn't give her any love. Later she found out that her mother loved her and wanted to protect her.
Full Name: Izumi Koushiro
Nickname: Izzy
Age: 10
School: Odaiba Elementary
Grade: 4
Home: Tokyo, Japan
Digimon: Motimon/Tentomon/Kabuterimon
/MegaKabuterimon
Voice Actor: Mona Marshall
Crest: Knowledge



Izzy is the computer wizard on the group. He is very smart for his age. You might even consider him as a child genious. He aslways will have a theory for everything. He carries around a laptop that has all the digimons' statistics. His crest is knowledge which truly fits him since he is curious about everything in the digiworld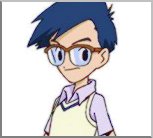 Full Name: Jou Kido
Nickname: Joe
Age: 12
School: Odaiba Elementary
Grade: 6
Home: Tokyo, Japan
Digimon: Bukamon/Gomamon/Ikkakumon/Zudomon
Voice Actor: Micheal Lindsay
Crest: Reliability

Joe is the oldest of the children. He is always complaining about something like his allergies. He is a pessimist and loves to worry. He is always looking at the down side of things. He may act like a coward sometimes but when his friends are in trouble they can depend on him. His crest is Reliability. His digimon is Gomamon.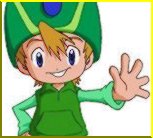 Full Name: Takeru Takaishi
Nickname: T.K.
Age: 8
School: Kawada Elementary
Grade: 2
Home: Tokyo, Japan
Digimon: Tokomon/Patamon/Angemon/Magnaangemon
Voice Actor: Wendee Lee

Crest: Hope

T.K. is the youngest digidestined. He is the younger brother of Matt. rHe is a sweet, and innocent young boy. He cries and whines alot but that's just how it is. He has grown alot since he first came to the digiworld. He has learned to take care of himself when Matt wasn't there. He has the crest of Hope which helps his Patamon digivolve all the way to Magnaangemon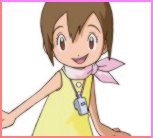 Full Name: Hikari Kamiya
Nickname: Kari
Age: 8
School: Odaiba Elementary
Grade: 2
Home: Tokyo, Japan
Digimon:
Nyaromon/Salamon/Gatomon/Angewomon
Voice Actor:
Crest: Light

Kari is the eighth digidestined. She was the eighth child that Myotismon tried to find and destroy. She is Tai's little sister. She was suppose to come to camp with him in the first place but she was sick. Although she is very young, she knows how to take care of herself and isn't a crybaby.