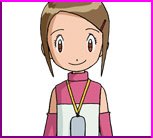 Name : Hikari "Kari" Kamiya
Age : 11
School : Odaiba Elementary
Grade : 5
DigiEgg (& Crest) : LIGHT
Digimon: Gatomon
Along with TK, she's a returning DigiDestined from Season 1. Kari has grown quite a bit in the past 3 years, and no longer suffers from her frequent illnesses that plagued her early life. Her latest hobby is digital photography and she carries her digital camera everywhere she goes

Name : Miyako "Yolei" Inoue
Age : 13
School : Odaiba Elementary
Grade : 7
DigiEggs : LOVE & SINCERITY
Digimon: Hawkmon
Yolei is the oldest member of the new group, and is a bit of an electrical genius. She is very similar to the personality of Mimi from Season 1 in the fact that she's a bit of a spoiled child. Her family owns a convenience store and frequently she provides the food for the DigiDestined and their Digimon as they travel back and forth from the Digital World.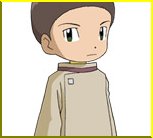 Name : Iori "Cody" Hida
Age : 9
School : Odaiba Elementary
Grade : 3
DigiEggs : KNOWLEDGE & RELIABILITY
Digimon: Armadillomon
Despite the fact that he is the youngest, Cody is the sensible one of the group, much like Season 01's Izzy Izumi. He keeps the group organized to make sure no appointments are missed and studies the traditional Japanese fencing art, known as Kendo. He and Yolei live in the same apartment complex as TK and his mother.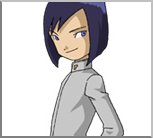 Name : Ken Ichijouji
Age : 11
School : Tamachi Elementary
Grade : 5
Crest : KINDNESS
Digimon: Wormmon
After having his base destroyed and his Digimon Emperor suit dematerialized, Ken became somewhat selfconscious of his worth towards the other DigiDestined. He slipped into a type of coma where he was trying to find his heart. After coming out of it, he vowed to help the others defeat Arukenimon and Mummymon, although he felt the others didn't want him. It took Cody the longest to accept Ken as a friend, and Kari found out Ken has also been to the Dark Ocean. Also, since the original 8 DigiDestined lost their Crests to rebuild the Digital World, Ken is the only DigiDestined to still have a Crest, but also the only new DigiDestined to have not found a DigiEgg.